Paraguay Primeval, 2012

Manitoba concerts!

to order CD contact: caweaver@uwaterloo.ca

1. Thursday, Jan. 10, 2013, 11:30AM Laudamus Auditorium, CMU, Winnipeg PARAGUAY PRIMEVAL Rebecca Campbell, voc; CAWeaver, piano

This music by Carol stems from a recent trip to Paraguay, and an ongoing collection of stories about these remarkable Mennonite settlers who found new "Promised Land" in the Chaco. Moving there in 1920s from Western Canada, later joined by those fleeing Stalinist Russia, these Mennonite settlers eventually changed a "Green Hell" into a thriving "Green Heaven," luring back many indigenous people to this arid, challenging landscape. The work bristles with jazz riffs, a tango (in case they may have danced in spite of themselves!), a lament for one family which died from typhus, a song for the women's village, a humourous song about the lithe indigenous women, a song for Uncle Hans who survived being lowered into a well, and more. Texts are derived from works by Rudy Wiebe (Blue Mountains of China), Dora Dueck (Under the Still Standing Sun), and Schonebrunn Chronicles translated from original Paraguayan colonists' writings by Henry and Esther Regehr. (CD Cover photo by Hans Hildebrandt). Proceeds from sales will go to MCC work among indigenous people in the Chaco, Paraguay.

2. Friday, Jan. 11, 2013, 10:00 AM Auditorium, MCI, Gretna, MB PARAGUAY PRIMEVAL – Rebecca Campbell, vocals; CAWeaver, piano

3. Friday, Jan. 11, 2013, 7:00 PM Douglas Mennonite Church, Winnipeg (via Global Family Foundation) PARAGUAY PRIMEVAL –Rebecca Campbell, vocals; CAWeaver, piano

4. Saturday, Jan. 12, 2013, 7:30 PM Mennonite Heritage Village (the Museum), Steinbach, MB PARAGUAY PRIMEVAL ––Rebecca Campbell, vocals; CAWeaver, piano

5. Sunday, Jan. 13, 2013, 2:00 PM Altona Mennonite Church, Altona, MB PARAGUAY PRIMEVAL ––Rebecca Campbell, vocals; CAWeaver, piano

other CDs:

Every 3 Children (to order CDs contact: caweaver@uwaterloo.ca

Carol Ann Weaver's 2008 CD, Every 3 Children (vocals by Rebecca Campbell), features Carol's song, "Every Three Children", composed for African children affected by AIDS as well as "Lobsang" for the five Amish girls. Proceeds from each sale of Every 3 Children will go towards AIDS relief (via MCC and Stephen Lewis Foundation) and the Amish Recovery Fund (MCC) and African.

Brilliantly recorded/engineered by Juno-nominated David Travers-Smith, the CD is graced by evocative Canadian vocalist Rebecca Campbell, jazz/classical pianist by Carol, with sweet guitar by leading South African guitarist Mageshen Naidoo, lyric cello by Ben Bolt-Martin, world beat drumming by Mark Duggan, haunting flute by Emma Elkinson, and heart-felt, grounding choral work by Leonard Enns' Conrad Grebel Chapel Choir.

Your purchase of this CD will be greatly appreciated by thousands in Africa who are struggling with AIDS and by the Lancaster, Pennsylvania Amish community.

Each CD is $22.00 (Can$/US$ – price includes postage).

To purchase, contact Carol Ann directly
•via email: Carol Ann Weaver caweaver@uwaterloo.ca

about Every 3 Children:

"Every 3 Children is produced in benefit of various people whose situations call for our immediate attention. The music, all composed by me, Carol Ann Weaver, relates to various global and local events, has been literally "pulled" out of me in response to the recent Amish tragedy, to African children affected by AIDS, to the Iraqi invasion and its ongoing conflicts, to 9/11 and how it has shaken our world, to the climate challenge, and more. Having visited several AIDS clinics in South Africa, I am ever more committed to wanting to allow funds to go in support of this staggeringly essential work. Various people, here and abroad, have repeatedly asked me when I would record these pieces. Now is the time.

This album features vocalist extraordinaire Rebecca Campbell and Juno-nominated co-producer David Travers-Smith. I am the pianist, bringing classical/jazz/world grooves to the album. Various Toronto and KW musicians are involved – Leonard Enns and the Conrad Grebel Chapel Choir; cellist Ben Bolt-Martin; world-beat drummer Mark Duggan; and Egyptian-born KW broadcaster/cultural worker Gehan Sabry who intones Iraqi names in Piece of a Rock. Several tracks include guitar work by South African guitarist Mageshan Naidoo. Graphic artist Jennifer Konkle includes photography from Virgil Martin and Dan Schneider.

One of the purposes of creating this CD is to allow it to be a means of raising awareness about certain local and global concerns. Every Three Children was written in response to AIDS in Africa, inspired by Stephen Lewis' work. Piece of a Rock was composed for/premiered at Kitchener's Open Ears Festival and performed in Waterloo's Sacred World Music Concert before travelling to Europe, Korea, and USA. Composed at the start of the Iraqi invasion in memoriam of innocent civilian victims, this piece incorporates Iraqi names collected by UK's Iraq Body Count directed by John Sloboda who travelled to U. Waterloo to lecture about his work, and brought Rebecca and me to England to perform Piece of a Rock there. How Can We Know, composed on 9/11, sung by various local groups, remains a hymn of 'asking'. Sacred Earth celebrates our planet. And Lobsang, written on the very day when five Amish girls were killed, speaks to the community which has suffered so deeply. Lobsang has already travelled to Pennsylvania, Ohio, South Dakota, Quebec, Ontario, Manitoba, Saskatchewan, Alberta, Paraguay, and South Africa – by Carol and Rebecca, and by Rosthern Junior College Choir."

Thistle & Jewel to order contact caweaver@uwaterloo.ca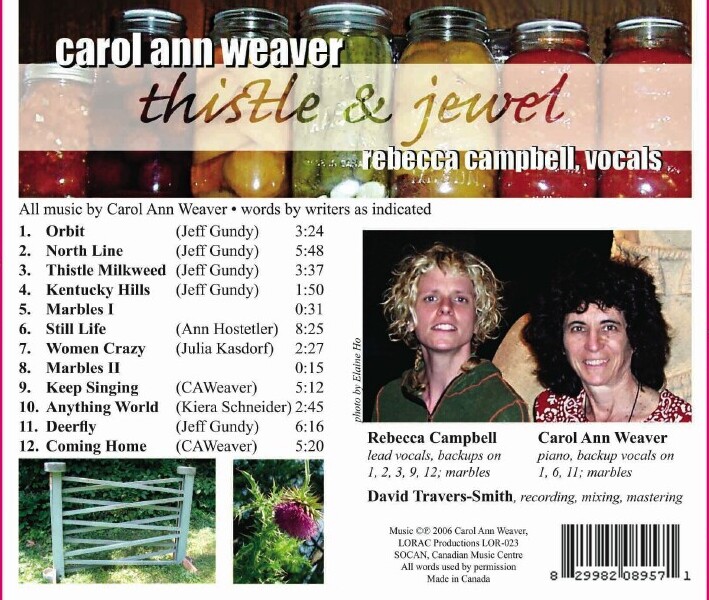 THISTLE & JEWEL CD by Carol Ann Weaver, 2006 with Rebecca Campbell, vocals, CAW piano, recorded/engineered/mastered by David Travers-Smith, based on poetry of Jeff Gundy, Ann Hostetler, Julia Kasdorf, Kiera Schneider). For fast order, contact by email: caweaver@uwaterloo.ca or phone: 519-576-1068.
THISTLE & JEWEL, 2006, is a collection of my songs based on poetry of Mennonite-rooted poets - Americans Julia Kasdorf, Jeff Gundy, Ann Hostetler, and the young Canadian Kiera Schneider. Sometimes our own stories are hardest to tell, our own songs hardest to sing - both the thistles and the jewels. But these writers playfully, whimsically, and colourfully transform normal days into miracles, ordinary farm landscapes into visionary places, modest housewives into frenetically crazy cooks, and plain Amish houses into raucous marble-roller arcades. Respectfully and sometimes irreverently, the songs deal with the humour, piety, earthiness, work-and-play, aspirations, wonder, imagination and beauty found within this unique cultural setting. The music joyfully incorporates sounds from a shared cultural Mennonite heritage - the quietness and space, the urgent busyness, the make-believe worlds created by children sitting through long Sunday morning sermons. And somehow vocalist Rebecca Campbell (never of Mennonite background!) matches each nuance, breathing resplendent and rollicking life into this music!
Thistle & Jewel — Rebecca Campbell, vocals; Carol Ann Weaver, piano and several backing vocals; David Travers-Smith recording engineer/artistic consultant, co-produced by Carol, Rebecca and David, recorded at Conrad Grebel Chapel, Waterloo, ON, and at Found Sound Studios, Toronto, ON, June, July, 2006. All music by Carol, vocal shapings and arrangements by Rebecca, CD graphics by Jen Konkle assisted by Carol and Rebecca. The album is dedicated to the young poet Kiera Schneider, 1990 - 2000. The CD travelled to South Korea for a temple festival performance by Carol and Rebecca, to Lancaster, Pennsylvania, Ohio, and elsewhere.
Other CDs
Awakenings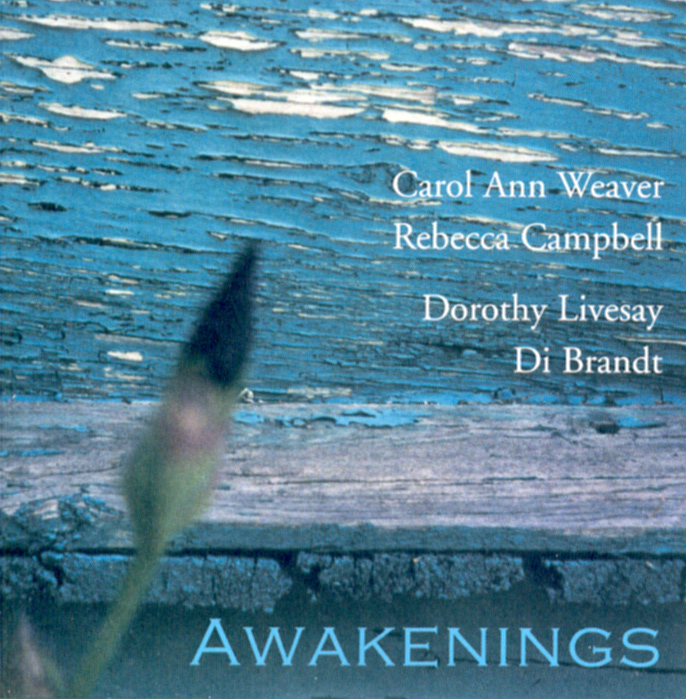 The music in all these CDs is "genre-bending", creating new stylistic fusions and voices, blending various styles from avant garde to folk, classical to jazz, groove to world beat, fusing Western concert music with various musical traditions - North American and African. The CDs are available via the composer caweaver@uwaterloo.ca or via the Canadian Music Centre <www.musiccentre.ca>

• CAROL ANN WEAVER —EVERY 3 CHILDREN, 2007 with Rebecca Campbell, vocals, Carol Ann Weaver, piano, Mageshen Naidoo, guitar, Ben Bolt-Martin, cello, Emma Elkinson, flute, Grebel Chapel Choir, dedicated to African children affected by AIDS.

• CAROL ANN WEAVER — THISTLE & JEWEL , 2006 with Rebecca Campbell, vocals (based on poetry of Jeff Gundy, Ann Hostetler, Julia Kasdorf, Kiera Schneider)

• CAROL ANN WEAVER and REBECCA CAMPBELL — AWAKENINGS, 2003 (based on poetry of Dorothy Livesay & Di Brandt)

• CAROL ANN WEAVER - DANCING RIVERS- from South Africa to Canada, 2001, recorded in South Africa with CAW and leading S. Af. jazz musicians
• CAROL ANN WEAVER – JOURNEY BEGUN with Cate Friesen, vocalist 1999
• DAUGHTER OF OLAPA–THE MUSIC OF CAROL ANN WEAVER, 1996, with Ardeleana Trio and guests.

AWAKENINGS is four-way collaboration of composer/performers Carol Ann Weaver and Rebecca Campbell, based on poetry of Di Brandt and Dorothy Livesay. The work stems from Livesay's 1991 limited-edition publication, "Awakenings", written late in her life, on which Brandt wrote her own poetry, "Waking Up", 2001. The combined poetry leads listeners down rare paths of transition between life and death. Coming from varied musical traditions and styles, the music ranges from folk to avant garde, jazz to soundscapes, groove to meditative, creating an interwoven musical/poetic web. The CD, AWAKENINGS, features vocalist Rebecca Campbell, pianist Carol Ann Weaver, guest vocalists Jane Siberry, Mia Sheard, and Jennifer Moore, and guest mandolinist Lyle Friesen, recorded, mixed, mastered by David Travers-Smith, produced by Rebecca Campbell.

Reviewers have commented on the power and seamlessness of AWAKENINGS, and have described the work as an "uncanny bridge between life and 'the beyond'." MUSICWORKS described this work as "an artful melange of words, music, styles, and expression that sits on the edge of definition." One listener says, "Your spirit can change the world", and many listeners rave about Rebecca and Carol's respective performing/composing styles which dovetail in intimate and essential ways, creating a unique continuity, and a new sound within today's music.

DANCING RIVERS - FROM SOUTH AFRICA TO CANADA, (LORAC PRODUCTIONS, 2001) was recorded in South Africa, 2000 with outstanding South African jazz artists Natalie Rungan, Mageshen Naidoo, Bongani Sokhela, Thandeka Mazibuko, Lebohang Methebeng, Jeff Robinson, Maggi Deppe, with Carol Ann Weaver as pianist, and was completed in Toronto, Canada, with additional vocals by Rebecca Campbell, drums by Jean Martin, produced by John Gzowski. The music sparkles with African flavours, jazz fusions touches, the bustle of Durban, and the sounds of silence from the Kalahari desert and Kruger wilderness in South Africa. Carol Ann's earlier song, "Dancing Dancing River" reappears here in a vivid, upbeat, blues-gospel style.
(Note: links are available for Journey Begun and Daughter of Olapa -- select album covers)